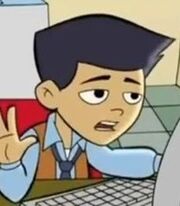 Vern Natoma
 is the editor-in-chief of X Middle School's gazette.
Vern Natoma heads editing in the school's journalism department. His first recurring role is in Cry, The Beloved Mascot, when he's accused by Alistair Greystone of kidnapping the school's mascot, Lobstee the Lobster. He's then brought into the interrogation room where he's questioned by Fillmore and Ingrid.
In another recurring role (Of Slain Kings on Checkered Fields), he's also a reporter/interviewer. He tries to interview rapper Checkmatey, but he doesn't get to do so for long. As the bodyguards show him out the door soon after.
In This Savior, A Snitch, he and other journalist students are in the auditorium for the macaroni art contest, and he asks Principal Folsom some questions.