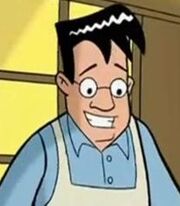 Professor Third
 is a college professor, and the father of 
Ingrid
 and
Ariella Third
.
Professor Third appears to be a single parent. It is unknown as to whether or not he is divorced, separated, or widowed. Sometimes the main Safety Patrol officers are known congregate at the Thirds' house to play cards where he prepares and serves hamburgers[1].
He is loved by his daughters. Once while ill they spent the day trying out various cold cure remedies on him [2]
At one point Ingrid mentioned looking forward to spending her spring break helping him translate a book about a 17th century Japanese mathematician[3].
References