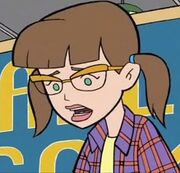 Bernice Beachmont
 is an X Middle School student.
When the papers that were part of her model of Haley's Comet she had on display at a science exhibit were shredded, Bernice freaked when she discovered that her work was sabotaged[1]. She later filled out and signed a form pertaining to the accounts of the crime when the Safety Patrol arrived at the scene.
Notes
She is voiced by Rachel Crane.
References